AIR CONDITIONING
We provide the following Cabin Air Quality Services on all Makes and Models of Motor Cars, 4×4 Recreational vehicles, Vans and Light Commercial vehicles. Petrol, Diesel and, LPG.
HEATING
Cabin not warm enough, fan not blowing enough air, unable to clear the windscreen on cold mornings. We can restore your heaters
COOLING
Cabin not cool enough, fan not blowing enough cold air.
IN CAR AIR QUALITY
Have you ever thought about the air you are breathing or noticed the bad smells in your vehicle?
Harmfull allergems are living and thriving inside the ventilation system and passenger cabin of almost every vehicle on the road. You may be endangering your health without even knowing about it.
THE MiST SOLUTION
The MiST In-Car Air Quality Service is a new and very effective way to treat the problem of mold, mildew and bacteria in a vehicles ventilation system.
This innovative technology utilizes a portable 12 volt ultrasonic unit that atomises a specially formulated solution. MiST micro-droplets are drawn into an autobobilers vents, penetrating and treating the entire ventilation system, including evaporator, air ducts and passenger compartment surfaces. The result is a healthy solution that restores interior air quality, and effectively treats micro-organism contamination as well as eliminating offensive odours.
Micro-organisms such as mold spores are linked with many adverse health effects ranging from breathing difficulties to nervous system disorders. Every time you turn on the fan, these micro-organisms are blown into the air you and your passengers breath.
Drivers and passengers are spending much more time in vehicles: the associated symptoms and illnesses include…
Breathing problems
Allergic reactions
Fatigue
Cold symptoms
Frequent headaches
Sinus congestion
Infections
Pneumonitis
Hypersensitibvities
Long term ailments
MOULD TESTS SPEAK FOR THEMSELVES
Samples taken two days before and after from a Porsche equipped with a cabin air filter.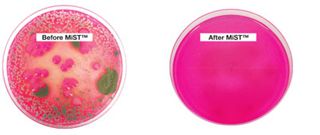 MiST Service Pricing
A "MiST" service will take roughly 30 minutes and should be repeated every 12 months. Cost $75.00
Not sure which solution fits you vehicle needs?